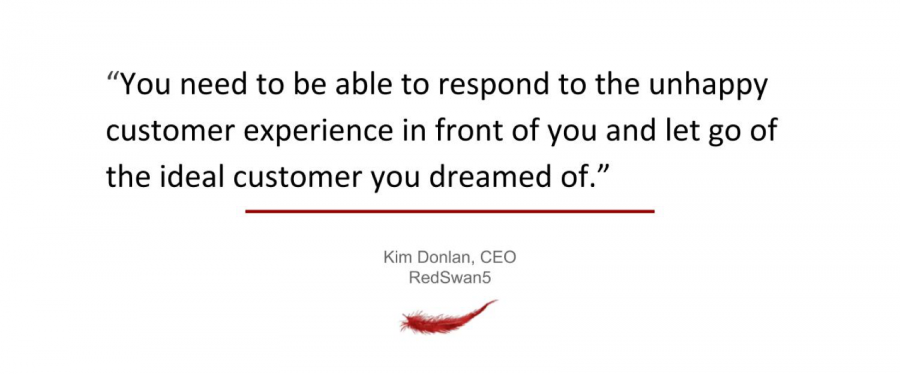 When you start out, you plan for the perfect customer. You hone your product to their every need and know that you will do everything you can to make them happy. And then they aren't. They ignore you. They complain. They don't want what you give them. No matter what you try, it doesn't work. Despite how much you love them, you don't make them happy.
Predicting what customers want is more difficult than ever. Especially in this unpredictable, consumer-controlled, environment where customers continuously cry for a customized brand experience. Developing a rock solid plan that has little flexibility is setting you and your brand up for failure. As the boxer, Mike Tyson famously said, "everyone has a plan until they get punched in the mouth."
According to research from Harvard Business School's Shikhar Ghosh, 75% of business fail  likely from an unexpected setback that they didn't plan for. If you stay on plan or don't respond fast enough, it can lead to disaster. You need to be able to respond to the unhappy customer experience in front of you and let go of the ideal customer you dreamed of.  
CONTINUOUS PLANNING
A better approach is to adopt a continuous planning mindset. You'll still be tied to sales goals —  but exactly how you are going to get there is less rigid. Think of continuous planning as a new and improved version of the lean start-up model. The lean start-up model is all about listen and respond: where the customer feedback is used to develop the next step. Exactly what the next step should be: a marketing campaign, fix the onboarding process, or an investment into a business intelligence tool that will provide the customer insight you need – all depends on what you are up against and makes the most sense. You need to be willing to test alternative tweaks to the experience, product or messaging on the fly and watch very carefully for a positive response.
Continuous planning requires alignment and strong relationships across the organization. Whether it's just two of you or an organization of thousands, the ability to pivot  – to try something new is critical. Responding to customers, even imperfectly, demonstrates you care. And customers know you care even if they can't express it at the time.
SCHEDULE INNOVATION (into your planning)
A big problem with planning is the pesky goals and milestones that need to be established.  Exactly how or what will make it better is different for everyone: more users, higher sales, or a chance to just start a new now that you know what you know. Whatever you put down will quickly be something from which you will be judged or worse, you will use to judge yourself. Who among us has not downgraded the goals and milestones to what is 'achievable. '

What makes better sense is creating time to innovate. A consistent time dedicated to a mindset of what can we do differently. The focus is to evaluate, brainstorm, design, and implement a new response to the customer feedback and behavior. It about building innovation into your work so that you and your organization have an opportunity to see things differently.
At RedSwan5, founders come to us stuck. Despite everything they have tried, their customers are unhappy and they are exhausted. Their messaging isn't working. Sales aren't closing fast enough or the digital strategy and onboarding process are disconnected. Through innovative workshops, creative and digital strategy, and UX design, we address what keep you up at night.
To learn more about how we can help you, contact Kim Donlan at KDonlan@RedSwan5.com