Startup Branding: The Best Discovery Questions and Digital Framework
https://redswan5.com/wp-content/uploads/2019/04/I-just-need-a-landing-page-and-other-mistakes-you-are-making-with-your-early-stage-branding.png
650
650
Kim Donlan
https://secure.gravatar.com/avatar/8f4066fbb77ff3ed52261239ff00ab83?s=96&d=mm&r=g
Brand strategy for startups is complex. As you launch your new ideas, seek financing and find initial customers, branding is often pushed to the side. It is costly, time-consuming, and simply not a priority. While full branding and messaging do take time, a failure to understand the pitfalls of startup branding can stop your company from ever really taking off.
Some think, "We'll figure out the branding later—all I need is a landing page." Another is, "We're in stealth mode, so I can't publicly share what we really do." Or, "We can just use a template for now." The problem with this thinking is it prevents you from addressing the fundamental questions that define your brand. As a result, it keeps you from communicating why your early adopters should trust you.
Where startups go wrong with brand strategy
A digital presence—even a seemingly simple landing page—need to address the foundational business questions early customers have. Branding and messaging require you to answer the tough discovery questions that prospective customers have about you and your idea. It is painstaking work to articulate your idea. But it does lead to a better customer experience that builds trust and a sales funnel from the beginning.
Best brand startup discovery questions
What is the impetus of your idea?
Who are you?
Can you succinctly describe your products or services?
What kind of organization or business model are you?
Where you are in the marketplace, and where you would like to go?
How do you currently market your products and services?
What is your competitive advantage?
Are there any trends or changes that are affecting your industry?
Are there any potential barriers to success for your product or service?
Where do you want to be in three years?
If you could communicate one single message about your company, what would it be?
These startup brand strategy discovery questions are vital to your digital presence and, in fact, the identity of your brand. Most noteworthy, your answers shape the content and structure of your preliminary digital engagement plan. It does not matter whether you have a single landing page, a small site, a predominantly social approach, or just a sign-up form—it must reflect the answers to the discovery questions to some degree.
Think customer experience even with a templated site
Yes, it is true that your brand will change as you go to market. Certainly, there is fluidity as you refine your messaging and learn more about how the market will be impacted by your idea. Having a branding and messaging starting point will prevent you from taking the shortcut offered by templated landing pages. Because templated landing pages give you a cookie-cutter digital presence that makes you look just like everyone else, they rob you of your uniqueness.
Because templates are quick and easy, they allow you to save money on designers and developers. Add a hero image (check), list the features and benefits (got it), incorporate clever team bios (yup) and a contact form (done). But these templates are being used by every other early-stage company and can trap you in an online experience does not distinguish you. More importantly, templates deployed without the branding and messaging can lead you down a path that fails to address the customer's perspective.
Brand startup digital framework
The Startup Brand Discovery Questions help you examine your idea more closely—what is your idea, how does it fit in the market and where are you going with it? (To get the full list of discovery questions, please email me at KDonlan@RedSwan5.com) The answers to these questions are from your perspective. As you move towards the Startup Digital Branding Framework, you need to think about how your answers can be framed from the customer's perspective.
Imagine you have a small site, just something built to support your efforts to close initial pilots and secure funding. First of all, branding and messaging are embedded in the typical sections. The template will have you fill in features, benefits, and product information. Furthermore, all the information will be from your perspective and not help you present your business with a customer-centric message. Finally, the templates make it hard to address what the customer is really thinking. Take a look at the framework below that presents shows how the map the messaging to the site.
Align the CX with what customers seek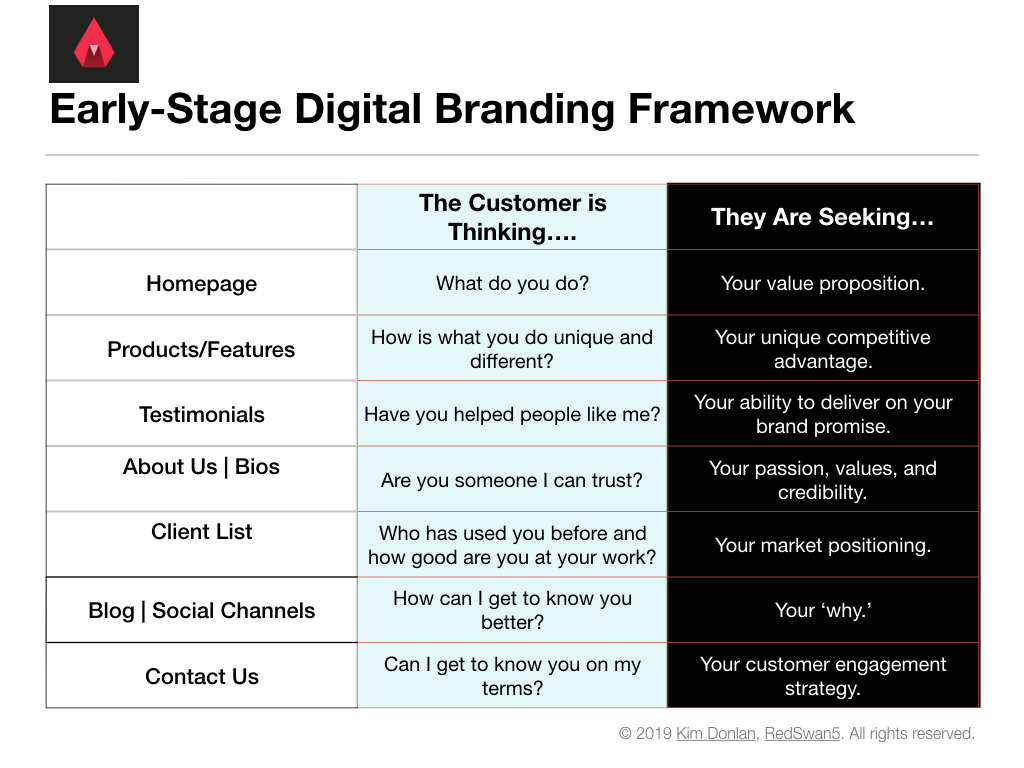 Startup branding and messaging is hard work. The pressure to create a digital presence that supports current goals and shows the long-term vision is a balancing act. Above all, focusing on the customer experience in front of you is the best approach. The discovery questions and framework will get those critical first customers. As a result, you and your company will be around long enough to evolve.
Finally, think of startup branding as your version of the Grey's Anatomy scene where Dr. Meredith Grey says, "So pick me. Choose Me. Love Me." And the Startup Digital Branding Framework will ensure your idea connects with those who'll love you most.